Top-Rated Pine Beetle Treatment Services in Jupiter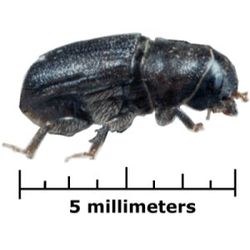 Pine beetles can quickly make a tree too sick to thrive or, worse, they can render a tree lifeless. An infestation of pine beetles can leave your Jupiter property looking far from its best as they cause your trees to lose their luster. What's more, a pine beetle infestation can make your property less safe to live on since you'll be living among dead trees since harsh weather could cause an affected tree to fall on your property. To keep your Jupiter property looking its best while also ensuring its safety, you need to rid it of any and all pine beetles at the first sign of infiltration. And to thoroughly remove pine beetles from your property, call the Jupiter pest control experts at Jupiter Pest for our thorough pine beetle treatment services.
Look for Signs of a Pine Beetle Infestation in Your Jupiter Home
You might have a pine beetle infestation and not even realize it. That doesn't mean that it's impossible to spot whether pine beetles have made their way onto your Jupiter property. It just means you don't know the signs to look out for. To tell whether pine beetles have taken up home on your property, look out for the following:
Small white or reddish-brown "pitch tubes" (small, tube-shaped openings on the exterior of a tree used by pine beetles to burrow)
Appearance of fine, reddish-brown material like coffee grounds at base of trees
Decaying inner bark with holes from where beetles burrowed
Leaves on pine trees turning a reddish-brown color starting at tip of tree
If you detect any of these signs, you need to call your Jupiter pest control experts for a professional pine beetle treatment. We'll work quickly to remove any and all pine beetles from your trees to ensure their health, beauty, and longevity.
Keep Safe with Our Pine Beetle Treatment Service
Your initial reasoning to get your trees treated for pine beetles might be that you want your trees to be healthy so that they can look beautiful, thus bolstering your curb appeal and property value. But you should also strive to rid your Jupiter area property of pine beetles so that your family can remain safe. After all, as your trees suffer from the damage that pine beetles can cause, those trees could become sick or even die. And if your Jupiter property is rife with dead trees, your loved ones could be at risk since those trees could easily come crashing down. To keep your loved ones safe, keep your trees healthy by treating them for pine beetles.
---
Recent Articles
TERMITE DAMAGE TO YOUR JUPITER, FL, HOME: WHAT TO LOOK FOR
Many Jupiter, FL, homeowners ask themselves what termite damage actually looks like. You should know the damage that is and can be caused by termite infestation in your building, and [...]
HOW TO KNOW IF YOU HAVE TERMITES
The signs of a termite infestation are often subtle and hard to spot, but the damage they cause costs Americans billions of dollars every year. Termites eat not only the wood of your home but also [...]